What is a B2B marketplace? It is a platform where businesses can buy and sell products and services to each other. It is different from a regular e-commerce store because it specializes in business-to-business transactions. 
This blog post will discuss the features of a B2B marketplace and how they can benefit your business!
What Is A B2B Marketplace?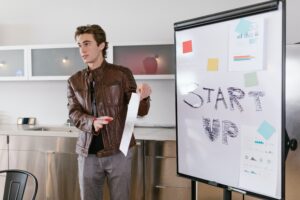 A B2B marketplace is a digital platform where businesses can buy and sell products and services. The term "B2B" stands for business-to-business.
The main difference between a B2B marketplace and a traditional online store is that the former offers a more tailored experience for businesses. For example, companies can search for specific products or services, request quotes, and compare prices. They can also read reviews left by other companies before making a purchase.
In addition, B2B marketplaces typically offer bulk discounts and lower prices than what businesses would find at a traditional online store. This is because the marketplaces can connect buyers with sellers in large numbers, which allows them to negotiate better deals.
What Are The Features Of A B2B Marketplace?
The first and most important feature of a B2B marketplace is that it should have a large number of buyers and sellers. This ensures that there is enough competition to keep prices down and that there are always new products being added to the marketplace.

Another essential feature of a B2B marketplace is that it should be easy to use. Buyers and sellers should be able to find the products they are looking for easily, and transactions should be quick and hassle-free.

Finally, a good B2B marketplace will offer

buyer protection mechanism

s such as escrow services or buy insurance. This protects buyers in case something goes wrong with their purchase and gives them peace of mind when shopping in the marketplace.
How Can A B2B Marketplace Benefit Your Business?
B2B marketplaces are quickly becoming one of the most popular ways for businesses to find and connect with new customers. And it's not hard to see why.
Benefits of using a B2B marketplace include:
Access to a larger pool of potential customers: By listing your business on a B2B marketplace, you can instantly tap into a much larger pool of potential customers than you would reach through other marketing channels.

A cost-effective way to reach new customers: Listing your business on a B2B marketplace is often more cost-effective than traditional marketing methods, such as print or online advertising.

Increased visibility for your business: A listing on a B2B marketplace can help increase the visibility of your business, which can lead to more customers and sales.

Easy to set up and manage: B2B marketplaces are typically very easy to set up and manage, so you can start reaching new customers with minimal effort.
If you're looking for a cost-effective way to reach new customers and grow your business, a B2B marketplace may be the perfect solution. So what are you waiting for? Start exploring the benefits of using a B2B marketplace today!
Don't forget to check this guide on How Much To Charge For Email Marketing?
What Are The Different Types Of B2B Marketplaces?
The three main types of B2B marketplaces are
Product

Service

Information
Product and service-based B2B marketplaces work similarly to eCommerce platforms like Amazon or eBay. Businesses can list their products or services on the marketplace, and customers can browse and purchase items they need.
Information-based B2B marketplaces are less common but provide a valuable service to businesses. These marketplaces allow companies to share data, research, best practices, and other forms of business intelligence with each other.
Depending on the type of marketplace, businesses may need to pay a listing fee, commission, or subscription to use the platform.
Alibaba: Alibaba is a product and service marketplace that connects Chinese manufacturers and suppliers with international buyers.

ThomasNet: ThomasNet is an information marketplace that provides access to supplier catalogs, industry news, and white papers.

UpWork: UpWork is a service marketplace that helps businesses find freelance talent for short-term or long-term projects.
These are just a few examples of the many different types of B2B marketplaces available today.
Don't forget to check this guide on What Is The Difference Between A B2C And A C2B?
Which Businesses Should Use A B2B Marketplace?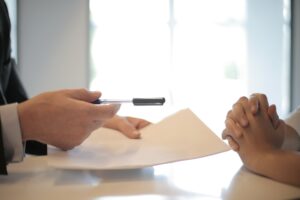 If you're a business that relies on selling products or services to other companies, then a B2B marketplace is likely a good fit.
There are several different B2B marketplaces, each with its own benefits
The most popular type of B2B marketplace is an online marketplace. A B2B online market connects buyers and sellers from all over the world through an online platform. This marketplace offers the widest selection of products and services and is open 24/ hours a day, seven days a week.

Another type of B2B marketplace is a brick-and-mortar marketplace. A brick-and-mortar B2B marketplace is a physical location where buyers and sellers can meet to do business. This type of marketplace offers the benefits of face-to-face interaction and the ability to build relationships with other businesses in your community. The downside of a brick-and-mortar B2B marketplace is limited to businesses in your local area.
If you're looking for a more global reach, an online B2B marketplace is likely a better option for you. No matter which type of B2B marketplace you choose; there are several things you should keep in mind to make sure you get the most out of your experience.
Don't forget to check this guide on Who Is A Freelance Financial Writer
How To Get Started With Using A B2B Marketplace
There are a few key steps to take when getting started using a B2B marketplace. The first is finding the right market for your business.
Not all marketplaces are created equal, and some may be better suited for your needs than others.
Once you've found the right marketplace, the next step is creating a profile.

This is where you'll list your business information, products, and services.

It's essential to ensure that your profile is complete and accurate, as this will be potential customers' first impression of your business.

After your profile is created, the next step is to start listing products and services.

Be sure to include clear photos and descriptions to help attract buyers.

Finally, once you've started receiving orders, it's essential to fulfill them promptly and accurately.
This will help build trust with your customers and ensure repeat business.
By following these steps, you can ensure that you're getting the most out of your B2B marketplace experience.
You might also want to read this guide on How To Make Money On Instagram Reels
Conclusion:
In conclusion, a B2B Marketplace is a powerful tool to help businesses save time and money while expanding their reach. By connecting buyers and sellers in a single platform, marketplaces offer greater efficiency and transparency than traditional procurement methods.
While there are some challenges associated with B2B Marketplaces, such as the need for careful selection of participants and the possibility of fraud, these risks can be mitigated through due diligence and comprehensive marketplace policies. Overall, B2B Marketplaces present a unique opportunity for businesses to streamline their operations and extend their reach to new markets.
You might also want to read this guide  How To Build A B2B Sales Team?