Affiliate marketing is a type of marketing where a business pays one or more people for each visitor or customer they bring in. For each sale made through marketing, the business pays the affiliate a commission or a percentage of the sale price.
Affiliate Marketing Website
An affiliate marketing website sells products or services for other businesses in exchange for a commission on sales or leads generated by the website's traffic. Visitors to an affiliate marketing website will be provided with information and reviews about products and services that they may be interested in, with the hope that they will click on the links provided. This website can be used as a powerful marketing tool to increase website visitors and sales for your business.
Affiliate marketing websites are designed to assist people in locating products and services that meet their requirements.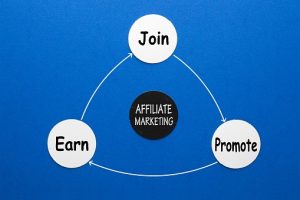 You might be interested in affiliate marketing if you:
You have some spare time. If you have spare time and a consistent income, you can build your affiliate website.
You understand SEO (SEO). Being able to generate organic traffic is important in affiliate.
You have experience in building websites. This could save you a lot of money when building yours.
You have the funds to delegate most of the job.
How To Build An Affiliate Marketing Website
Pick A Niche And An Affiliate Program
Decide on a niche for your website. You can select one that covers a broad range of topics, such as fashion or food or you can choose a specific one. Rather than focusing on a variety of products at once, it is usually better, to begin with, a single type of product, such as sneakers or leaf blowers.
    2. Select A Domain Name And Web Host.
A domain name will be required for your new website after deciding on your niche. The first thing you'll need is a content management system (CMS) or website builder.
WordPress is a good option for most people and one of the main reasons why it's so popular is because it has a variety of plugins that allow you to do things that would otherwise be impossible.
You can use any registrar you want as long as it provides you with the services you require to run your business. After that, you'll need to find a suitable host.
Create Niche-Specific Content.
Decide on a niche and write about it. More articles on your website mean more visits if you follow a few easy rules:
Post new content regularly. Visitors will return if they know your schedule.
As you write, make sure your content is optimized for the keywords you want to employ most. Your content should be read by those looking up a similar term.
Keep writing and publishing even if no one responds right away. A new website's growth and recognition take time.
If you're stuck for ideas, look at your competitors' work. You could be inspired.
Use Plugins And A Theme To Personalize Your Website
After you've decided on a platform, you'll need to make your affiliate website stand out by making it unique and adding important features. WordPress themes and the necessary plugins can be selected before beginning this process. The best thing to do is to select a WordPress theme that complements your brand.
Plugins are the most efficient way to get things done. It can help you create a payment system, keep track of sales, and do other important things for your affiliate program. Plugins can also organize data, manage your affiliate marketing campaign, and even assist you with ad customization and links in your ads. There are plugins for search engine optimization (SEO), security, backups, and other purposes. You should try a few of them out.
Create One-Of-A-Kind Affiliate Dashboards.
WordPress includes user accounts for everyone who wants to use the site. A variety of add-ons can assist you in creating detailed affiliate dashboards where your partners can view information such as sales and traffic. It will allow you to;
Keep track of your clicks, sales, and commissions.
Check payment history;
Download or copy banners and links
Having this information is essential whether or not you decide to set up affiliate accounts for your website. It can advise you on what to do and how to improve your campaigns and sales.
Make Use Of Banners And Links To Assist People In Finding You.
The most important aspect of affiliate marketing programs is the link that people can use. Distribute yours to your partners. This is the function of your new website. Making links manually is still possible, but having a plugin that can do this for you may be more convenient. You can also use the tool to add advertisements and graphics for your affiliates to use.
Keep Track And Reimburse Your affiliates For Their Efforts.
After your website is up and running, you should monitor your partners' click-through rates, sales, and commissions. Ensure that your affiliates are paid accurately and on time. This is also critical to the success of your overall marketing strategy. By keeping an eye on the success of your partnerships, you can determine which relationships are worth the money you put into them (ROI).
Also, you should connect your affiliate program website to a payment system such as PayPal. This will allow you to quickly complete and keep track of transactions with your partners.
Conclusion
Affiliate marketing remains one of the effective ways to generate a steady, passive income online. Creating a good website now takes more time than it did a few years ago but it is still possible. At first, you will have to put in a lot of effort but after that, it becomes easier. You should also be able to delegate the majority of the work to others after a while so that you can devote your time to other pursuits. An Affiliate marketing website does not have to be difficult, and if you follow the right strategy and use the right tools, you can easily create one.
Do you have any questions about how to create an affiliate marketing website? Contact us!