A copywriter is a person who creates compelling written content for online and print advertising and marketing. Copywriters research and write content about a specific product or service for consumers and clients. Copywriting is the art of writing for websites, blogs, ad copy, and other online media. The following are the three most common kinds of copywriters:
Copywriters for marketing agencies
Copywriters for agencies work full-time for a firm that services many clients. They are frequently required to work full-time. You'll frequently be required to tackle projects that are difficult and need originality in order for clients to develop a brand identity. A Marketing copywriter is a powerful tool in an agency and helps to build the 'feel' and 'image' of the brand in the eyes of the public. 
Copywriters for businesses
Copywriters employed by corporations have more stability in their jobs and only write for the corporation's goods or services. These responsibilities are generally more focused on a single topic and need less imagination.  However, ad copy is a big business and good writers know how to persuade customers, and use their ad copy to get the right message across.
Freelance copywriters are freelancers who write for individuals and businesses
Freelance copywriting is the most flexible in terms of subject matter, project type, and time commitment. Freelancers are paid when the work is completed and may take on as many or as few tasks as they choose.
What is the role of a copywriter?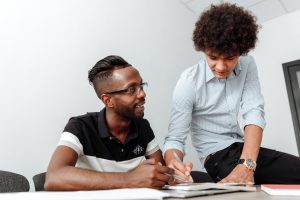 Various platforms may be utilized to place your message in front of a wider audience. E-book writers, for example, focus on producing interesting content that is distributed across many mediums. Persuasive writing is the usage of content to persuade an audience to buy things or services immediately or at a future date. 
A copywriter creates ideas for a client's advertising plan or strategy by taking a customer's advertisement brief. Diction is critical for a copywriter to succeed. As a copywriter, you must pay close attention to detail and word choice, or diction. Every word in your content has a function and is there for a reason.
In order to assist marketing and streamline product branding, copywriters are expected to produce error-free or nearly error-free material. Many wordsmiths work on a variety of projects at the same time and must be able to multitask. Writing content for the following subjects may be included in your copywriting responsibilities:
Emails

Direct mail pieces

Media campaigns and catalogs

Press releases

Billboards

Advertising flyers

Radio advertisements

Television plugs and social media ads
Average salary
A copywriter's hourly wage is determined by his or her experience, availability, education level, and project needs. A copywriter with a track record of producing material that generates income for customers may make more money. The median yearly pay for a full-time copywriter is $51,691. Salaries range from $14,000 to $114,000 per year.
Creative abilities
Whether you're an agency, corporate, or freelance author, here are some key traits that you'll use in your job:
Your writing skills
Copywriting is a recursive activity. To begin, you don't need to be a polished writer, but practicing on a regular basis can help you build your writing abilities and enhance them over time.
Curiosity
Writing compelling content necessitates some groundwork study on your subject and a focus on the target audience. If you have a naturally inquisitive mind and desire to learn new things, this profession may be a difficult yet exciting option.
Detail-oriented
You must be able to evaluate your work from an unbiased standpoint. You'll need to scan your work for changes, looking for correct grammar, spelling, and punctuation.
Communication skills
You apply these abilities to understand people correctly and to be understood completely. They'll assist you in establishing your authority and positioning yourself as an expert in the field of writing copy. Excellent communication skills are required for listening attentively to your customers, comprehending their vision, and writing for their intended purpose. When it comes to writing ad copy, this is skill is of utmost importance, as a great copywriter needs to get the right message across to the target audience. 
How to Start a Career in Copywriting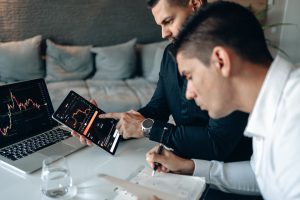 There is no one-size-fits-all road to getting your desired career, but there are certain broad guidelines that will aid you in your pursuit. Although not necessary, a diploma in writing or journalism may help you be more marketable. Here are some helpful hints for aspiring copywriters:
Understand the foundations of copywriting
It's more complicated than simply providing clear instructions or writing information effectively to be an effective copywriter. It requires a thorough knowledge of client requirements and human psychology. It requires the capacity to pique people's interest quickly and effectively while arranging words, images, and proactive call-to-actions in an appealing manner.
Keep in mind why businesses hire copywriters
Knowing what motivates clients to hire copywriters gives you a leg up on the competition by allowing you to target your ad campaigns at such needs. Knowing your target audience is an important component of a successful marketing strategy. To pique the consumers' interests, organizations such as businesses, NGOs, and other organizations are obligated to generate a significant amount of original content.
Narrow down on your topic and figure out what you're going to write about
Establish yourself as a client for a target demographic that is interested in what you have to say. If you choose, this can assist you to build credibility as a copywriter in a certain field and give better outcomes. You should research and investigate different professions to determine which one is the best fit for you. For example, if you enjoy traveling, you might write for travel blogs or similar publications.
A copywriting portfolio, or "Minimum Viable Portfolio (MVP)" as it is often known, comprises client-focused samples. An MVP is a writing sample of your well-written project, usually about 200-400 words in length, and it provides a clear picture of the quality of writing you provide to your clients.


Conclusion
Even with the amount of AI being used in the world today, copywriting is a creative skill that is difficult to master but very valuable. Especially a marketing copywriter,  that understands the power of their skills can command a high price.  If you have good language skills, you can train and educate yourself and build a whole career in this fantastic field.