If you just started your amateur blogging journey, this article is the ultimate guide for getting started with your amateur blog. You see it all the time, bloggers making 5-6 figures a month, traveling the world, and having the ability to do what they love. And it is also one of the top online money-making occupations you can pursue that will allow you to have more independence.
However, this flexibility comes with a lot of effort that might seem daunting if you start amateur blogging.
But no concerns since I will provide the step-by-step approach to start your blog with you.
Let us first define blogging.
In blogging, you'll be writing on a certain topic that others will find interesting. The professional blog posts writer communicates information in a conversational tone, unlike news or educational articles.
That makes the writing more approachable. That's why we like blogging so much. We can create a piece that feels more like a conversation than a college essay.
Ensure that you have read our article about 5 crucial mistakes amateur bloggers make while blogging.
Is blogging for you?
It's exciting at first, and I agree! But, I want to make sure you're starting amateur blogging for the correct reasons, not to promote a lifestyle online.
You are good to start as an amateur blogger If you have the following qualities:
Passionate about helping other

Truly want freedom in your life

Persistency

Patience

Courage to accept failures 
You should NOT blog if you:
Are you taking it as a get rich quick

Are not a hard worker

Don't have a growth mindset

Not a Lifelong learner.
I know how daunting this may be, and I know how it feels to be a chicken with your head chopped off. That's why I want you to set reasonable goals before you begin.
If you are ready to put in the effort and time on amateur blogging, it will change your life. Are you ready to change your life? Let's do it.
1. Choose A Niche For Your First Amateur Blog
Amateur bloggers are often stuck at the first step of deciding a niche for their amateur blogging journey. To figure out which specialty is perfect for you, here's a simple activity that you may perform:
Think about what you are enthusiastic about and what you are an expert in, and develop a list of both (or what you feel like you are good at).
Look at your interests and skills to determine if there is a common ground between them. Moreover, here is the list of some profitable niches in blogging. This blog post may help you choose a niche for your amateur blog.
2. Choosing A Domain Name
Once you've chosen your niche, you'll need a catchy domain name for your blog. Domain names affect your brand, reputation, and readers' perceptions of you.
I know it's a very tough decision, especially in amateur blogging. Here is a hack. There is a website named thesaurus. It can help you suggest a list of domain names based on your niche and your targeted audience. I am sure it will help you a lot.
Remember that while choosing a domain name, t's better to be simple than fancy, so make sure the name you choose can be easily recognizable.
3. Hosting Your Blogging Website
It's time to make a website around your chosen blogging niche. Many hosting companies are available, but  Bluehost, Namecheap, and GoDaddy are among the best, especially amateur bloggers.
Once you've chosen your niche, you'll need a catchy domain name for your blog.
Domain names affect your brand, reputation, and readers' Always keep in mind that finding the perfect blog name that is also taken may take several tries, but don't give up; you will find the correct one!
Keep in mind that social networking is very important, and register your blogging website on Instagram, Facebook, LinkedIn, Youtube, and Twitter.
Even if you don't plan on using such platforms right now, register them anyhow so that you can own the names before anyone else does.
5. Writing Content For Your Amateur Blogging Website.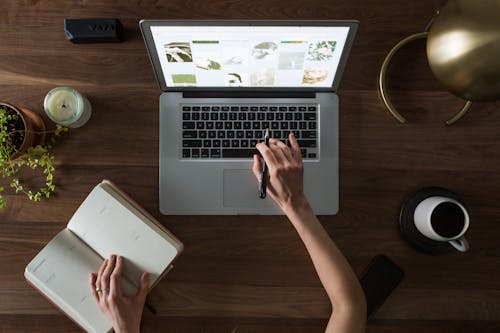 After getting the domain name and hosting package, it is time to begin researching the finest topics for your blog to write about. It's not simple to pick a topic of interest and write about it. If you want to create content for your blog, as many people believe.
For those of you who haven't yet discovered it, it takes time and effort to write about what you enjoy and write something that your readers will be interested in learning more about. Our previous blog about how to come up With blogging ideas may help you in your amateur blogging phase.
Here is the checklist for each of your content:
Make sure it is easy to read and understand.
SEO optimization.
Don't forget to add visuals to your blog content.
It must provide value to your reader.
6. Marketing Your Blog
Your amateur blogging journey will be incomplete unless you understand how to advertise your blog effectively. Don't be concerned if you are unfamiliar with or feel a little scared by the prospect of working in marketing. We have all been in your shoes.
Although there are several platforms for advertising your blog, it is better to choose only one or two to concentrate your efforts on so that you do not become overwhelmed and can become proficient at promoting on that platform. We have already published an article about the marketing aspect, make sure you read it.
7. Monetize Your Blog
Here comes the juiciest part of blogging, Monetization. You can monetize your blog in two ways:
i) Affiliate Marketing
Affiliate marketing is an easy method of making passive money. To fully use this method, you will need to generate sufficient traffic and audience. Check out our previous blog on making sales funnel for affiliate marketing; it will help you understand better.
It's necessary for you to learn how to bargain with brands regarding your prices. Taking a lesser commission may be preferable if you are starting the business. Once you have completed multiple campaigns and your following has grown, it is preferable to request money in addition to the goods being given away.
ii) Website Ads
Another option to generate passive revenue from your blog is via website advertisements. Some networks, such as Ezoic, need you to have at least 10K visitors in the past 30 days to be deemed a member. However, you can join google ads as a newbie.
Conclusions
Amateur blogging can easily become a full-time blogging business if you follow the correct path. We have discussed all the essentials to get started as an amateur blogger in this blog post. We wish you the best wishes for your blogging journey.