Are you trying to find a way to put your business on Google? If so, then this is a blog post that will help guide you through the process. We'll be discussing how to register on Google's My Business website and why it's important for any business owner who wants their company to succeed.
You can also follow these steps if you want more information about getting verified by Google or managing your business on this platform.
Google has a section on its My Business website where you may add your company. Here is a step-by-step guide on how to do this registration process.
9 Easy Steps to Put Your Business on Google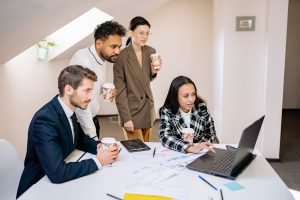 Step One: Login to your Google account. If you do not have an account yet, then create one for free here. Just click the "Create Account" section, and you are good to go.
If you already own a business or manage accounts on behalf of other companies, then make sure that they are linked to the same Gmail account as well before going further!
Step Two: You can find your company's name by clicking Manage now on the My Business home screen.​ Choose "Create a business with this name" from the drop-down menu under the search bar.
Step Three: Fill out all of the information that Google asks for with regards to your company's location, hours or services offered, etc. For instance, you will select a category for your business (e.g., restaurant, retail, barbershop, etc.) and enter your business name on the page that appears in this step.
Step Four: Your next step will be to decide whether or not you want your business' location displayed on Google Maps. Click next after selecting Yes or No. You'll obviously press Yes if you want your business to be seen on Google Maps.
Step Five: If pressed Yes in the previous step, your business address will be requested on the next screen. Select Next after entering all the required information. 
Step Six: In the sixth step, put your business's phone number and website in the appropriate fields and click Next. 
Step Seven: To verify your business, you will need to provide your personal mailing address if you didn't provide a business address in the 5th step. It won't be visible to the general public. Choose Verify later, or enter your address and choose Next. 
Step Eight: To verify your business, choose a method from the drop-down menu. Verification methods may vary depending on what type of business you operate. Google can verify your business via:
Postcard

Email

By Calling

If the business website is registered with the Google search console, your business may be verified instantly.
Step Nine: You will then be guided through the process of setting up your Google My Business page. In this step, you can add your 
Details of services and operational hours, 

Allow for

messaging

and easy communication with customers.

Describe what your business is all about

Add some photos to help your customers find you easily
Enter the prompts that appear on the screen to complete your Google business registration process.
Why Is Putting Business on Google Helpful?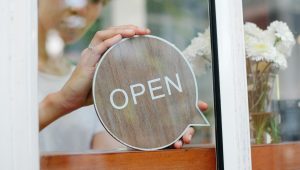 Google My Business is a free service that helps businesses stand out among the competition. It's also useful for potential customers who are searching for companies like yours on Google Maps or Search Engine Results Pages (SERPs).
Boost in Ranking
Once your business has been added to this platform, it will be easier to increase your ranking and visibility in SERPs if you use the right optimization techniques.
Easy Customer Journey
Plus, adding business information to Google Maps can help people who are looking for your services in their area. If they're using a mobile device, they can easily find your business while they're on the go and check out driving directions to get there.
Google My Business also lets you create a listing that's specifically for customers in another country or city if this is applicable to your industry. This feature makes it easier to connect with people who are interested in what you have to offer, no matter where they are in the world.
Straightforward Communication
Google My Business can also help you connect with customers through Google+. Customers who have +mentioned your company on this social media platform may be more likely to visit your website, or even become a customer!
Creating a business listing on Google is an important step that shouldn't be overlooked! By taking advantage of all that this platform has to offer, you can increase your ranking and visibility while also connecting with potential customers.
What Are Some Businesses That Can Boost Their Businesses via Google Business?
If you're wondering if your business would benefit from registering for a Google My Business account, ask yourself the following questions:
-Is my business located in a brick-and-mortar building that customers can visit?
-Do I offer services that people might need while they're on the go (e.g., food, transportation, etc.)?
-Do I have a website that customers can use to learn more about me and my business?
If you answered yes to all of these questions, it's time for you to register your business on Google My Business! 
It will make it easier for people interested in what you have to offer or looking for services like yours to find and engage with you.
How Can I Get More Customers Using Google Business Listing?
If your business is already listed on Google My Business, but the number of website visitors or customers isn't increasing as quickly as it should be, don't give up hope! You can always try out new strategies that will help increase your ranking in SERPs besides following some email marketing guidelines. 
-Make sure that your business information is accurate and up to date on Google My Business. If you have a physical location, make it easy for people to find the exact spot by including the address in your profile description!
-Ensure that all of your business listings are consistent across different platforms (e.g., Facebook, Yelp, etc.).
-Take advantage of Google My Business analytics by keeping track of your website visits and customer interactions. This will help you determine if the strategies that you're using are working for or against your business!
You can also use affiliate marketing strategies to benefit your business.
By finding ways to improve your ranking in SERPs while also offering a positive user experience on Google Map listings, it'll be easier for customers to find your business and take the next step in doing business with you.
Final Words
We hope this guide has helped you learn more about how to put your business on Google. We recommend that you check out our blog for additional posts like this or contact us today!
If you're still feeling lost on what registering for a Google My Business account entails, don't hesitate to reach out to us for help! We'll be more than happy to guide you through the entire process so that your business can start reaping the benefits of this platform.